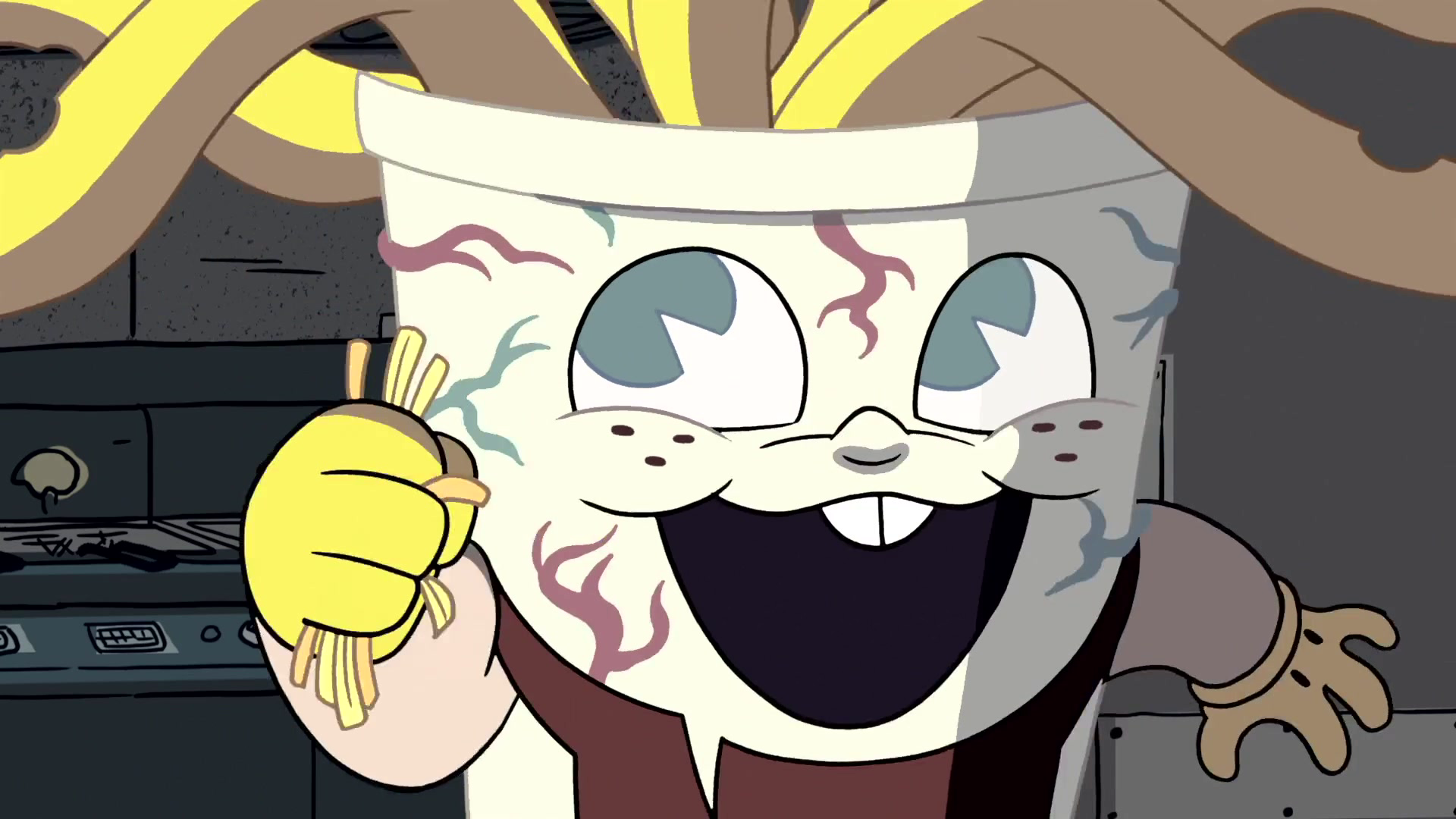 Season 1 of Steven Universe is a strange beast. The most interesting thing about it, as I've said before, is its unique style of worldbuilding — slowly giving the audience tidbits of information over the course of nearly fifty episodes. The purpose of this is to ground the story in Steven's perspective, so that the audience learns about this fictional world in the same gradual manner as a real-life child learning about the real world. Season 1 is, in many ways, a perfect simulacrum of childhood.
Like childhood, then, there are some. . . shall we say, weird phases. In particular, Season 1 has a decent stretch where it seems to have gotten really into horror movies? Like a child developing a new obsession that will be gone in three months, it suddenly leans sharply forward into images and concepts that are genuinely creepy even to a supposed adult like myself. Often, these episodes are presented with the shocking, straightforward enthusiasm of that weird kid on the playground who's ridiculously proud of this dead bird he found. And in the past, I haven't been able to make much sense of them. What kind of tone are you trying to go for, Steven Universe? Are you a fun, goofy kids' show, or a terrifying parade of nightmares?
"Frybo," therefore, has never been a particularly re-watchable episode for me, as I think it's emblematic of the Crewniverse still floundering to find the show's identity. But upon re-watching it for this guide, there are some interesting observations in here. Let's get into it.
Synopsis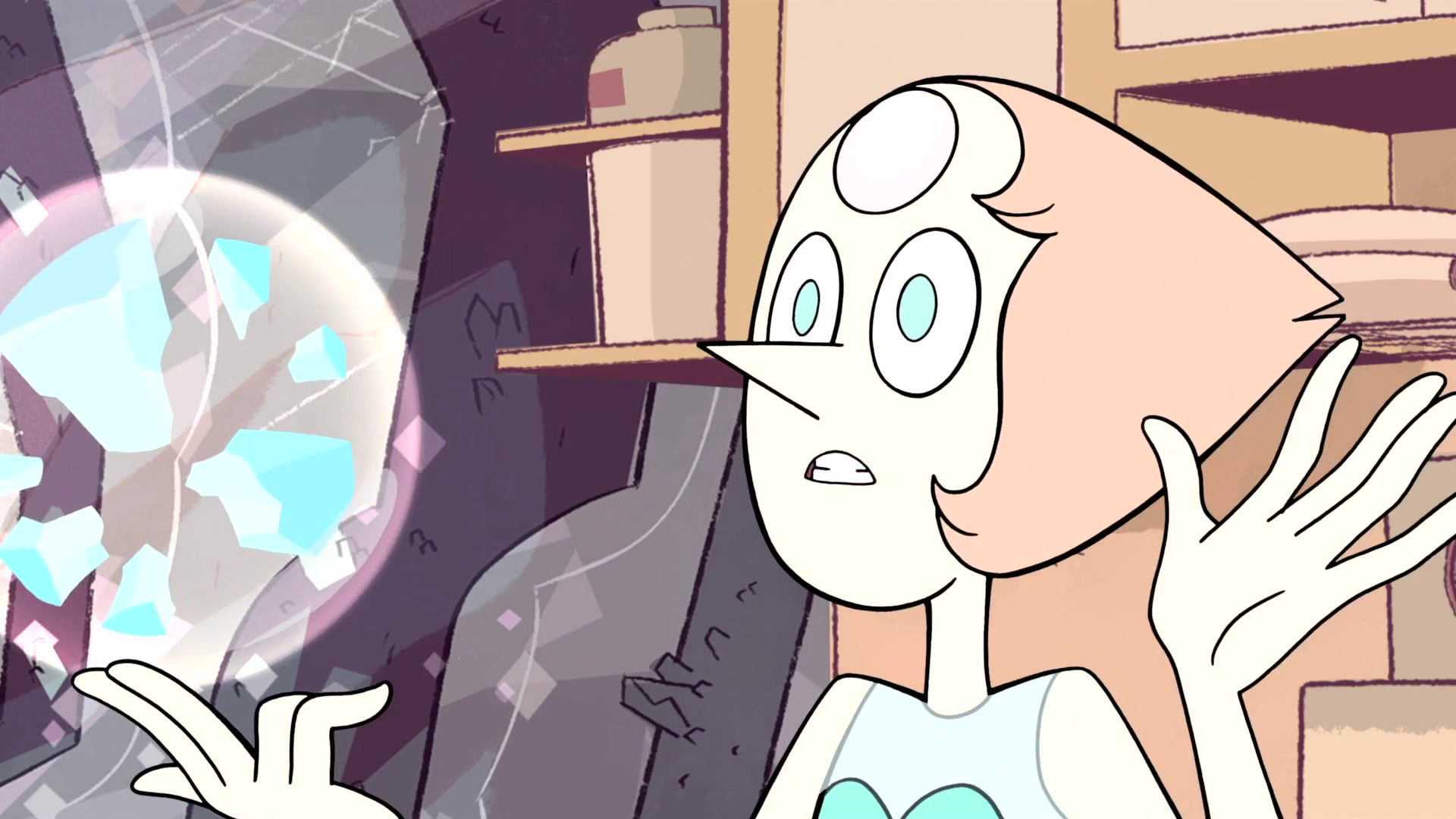 We open on Steven's house, where Steven is looking for his pants. Pearl, meanwhile, is looking for a dangerous weapon, a small white jagged object called a Gem Shard. In a hilarious moment (which gives us a surprisingly informative download I didn't think we got this early in the season), Pearl explains that each Shard contains a partial consciousness that can possess objects and follow orders, and thus can't be allowed near clothing — but Steven's 
mind wanders and he doesn't take in a word of it. Pearl leaves to go look elsewhere, and Steven spots his pants walking around by themselves. He puts them on, and removes the Gem Shard from the pocket. 
Steven heads outside to give the Shard to Pearl, where he runs into Peedee. Peedee's dad runs the local fry shop, and is forcing him to walk around wearing Frybo, a creepily happy-looking mascot shaped like a bucket of fries. When Peedee wishes that the costume could just do its job without him in it, Steven comes up with the idea to put the Shard inside. 
Frybo wakes up and starts following orders, even spouting new legs seemingly made of fries. Peedee tells him to "go make people eat fries," and he and Steven set off to play at Funland Arcade. However, they are quickly interrupted in their fun by distant screams.
Running back to the fry stand, they discover that Frybo has taken their orders much too literally, and is force-feeding fries to multiple Beach City citizens. Steven attempts to fight it and is thwarted — and even when Pearl shows up, Frybo starts spouting powerful jets of ketchup, throwing Pearl backward and letting loose all the other Gem Shards she had been carrying in a bubble. This gives Steven an ill-advised, yet surprisingly effective idea; he immediately takes the Shards and puts each one in a different piece of clothing. His pants, shirt, sweatshirt, socks, boots, and even underwear all take up arms against Frybo, and Steven is able to successfully remove the Shard from the Frybo costume. The ruined Frybo is given a Viking's funeral, and the day is saved.
Analysis
This episode is about. . . capitalism? Yeah, I didn't really expect that either. 
With the introduction of Peedee, we are given our first episode that comes under the subgenre of "Steven has a solo adventure with a human friend." These episodes are going to be very important moving forward, and they serve two purposes. First, they let Steven forge connections from people outside his family unit. Steven's human half is just as important as his gem half, and learning lessons from both humans and gems is going to be an essential skill for him.
Secondly, human-centric episodes often allow the Crewniverse to make comments on real-life issues that they simply can't with gem-centric ones. Gems, as the more fantastical beings, are often at the center of stories that must deal in metaphor, symbolism, and the figurative. But here in Frybo, for instance, we can get very literal, very quickly, about the horrors of capitalism. Let's look at this scene in Funland with Steven and Peedee:
PEEDEE: This seahorse [ride] used to make me so happy. Now, it's just giving me whiplash.
STEVEN: (shaking on the jellyfish ride) I just feeeeeel tiiiinglyyyyyyy!
PEEDEE: You'll understand when you have a job.
STEVEN: I do have a job! I protect humanity from magic and monsters and stuff.
PEEDEE: I mean a real job, that you get paid for. 
STEVEN: I'm paid in the smiles across the town's faces.
PEEDEE: I don't see anyone smiling. You pick up a job to buy a house, or raise kids. . . or to impress your dad. You work away your life, and what does it get you?
STEVEN: Smiles on faces?
PEEDEE: No! You get cash. Cash that can't buy back what the job takes. Not if you rode every seahorse in the world.
STEVEN: Whoa. You wanna try the jellyfish?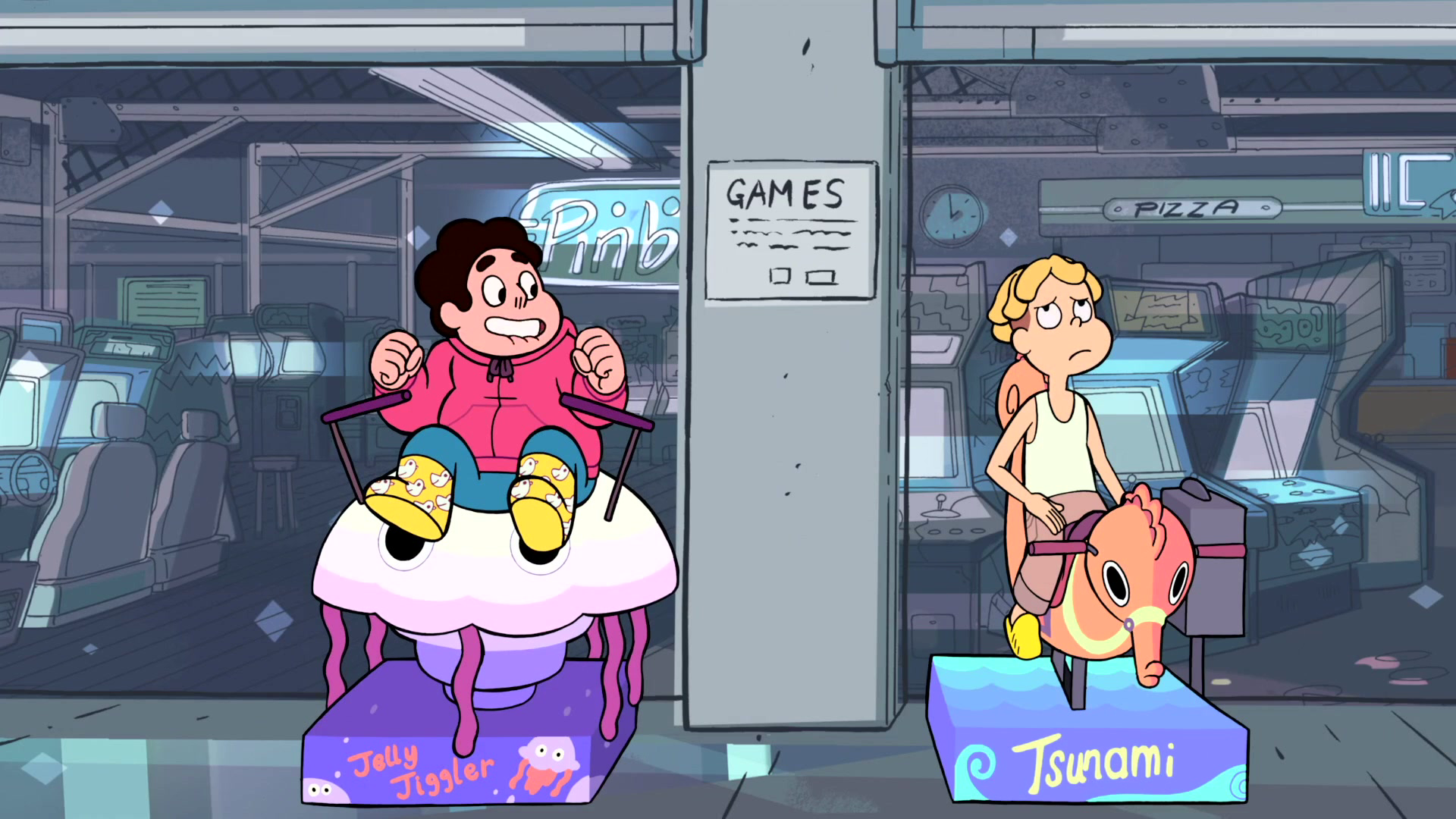 Here, Peedee is explaining, however involuntarily, a common philosophical critique of capitalism. Many minds smarter than mine have pointed out that dependence on a wage for survival can restrict individual freedoms, even in an ostensibly free society. This is sometimes called wage slavery, and it has psychological effects as well as economic ones. As Olly Thorn of PhilosophyTube recently put it, "If you work a job you hate just to make money for somebody whose job is owning stuff, then are you free? Just 'cause you can choose what color socks to wear and what to have for lunch?"
It's easy to see that Peedee feels trapped within this system, even if he doesn't fully understand it yet. As a child, he doesn't yet need to work for survival — in place of that, we see that he took the job to impress his dad. But he's already seen the endless push and pull that capitalism can work on your desires. He can work hard to get fatherly approval, but how much can he savor that approval when the job itself makes him miserable? And even when Peedee attempts to briefly escape his daily grind by supernatural means, he is roundly punished for it. The horrifying scenes of Frybo attacking the townsfolk could easily be seen as a metaphor for the chaos when you deviate from the norm, even a little bit, while working a low-paying job. If you show up even slightly late, or attempt to take a vacation, or say something even slightly off to a rude customer, your attempt to find any scrap of solace can backfire, even affecting the people around you.
Peedee eventually reaches an equilibrium with his father, after Mr. Fryman (thinking that Peedee is the one in the Frybo suit attacking people) tells him that he truly values him, and apologizes for pushing him so hard. Ominously, though, he expresses Peedee's value to him not as his son, but as a "valued member of Fryman Brothers Incorporated, and all its affiliates." Much like an executive using quirky team exercises to foster a feeling of staff unity, Mr. Fryman is addressing the aggression, but not its underlying cause. Even their final conversation as they send off Frybo, while it has all the gestures of a filial reconciliation, fixes nothing under the surface.
Steven, of course, is blissfully unaware of all this. He is separated from Peedee's world not only because he is part gem, but because he is seemingly much less invested in impressing his own authority figure. 
Pearl — the only Crystal Gem to appear this episode — briefly attempts to act as Steven's mentor by explaining to him the history of the Gem Shards, but gives up rather quickly when Steven seems unreceptive. This is the first episode so far in which the entire conflict stems from Steven's immaturity; if he had listened to Pearl in these opening minutes, or exercised some caution with the Shard, all the destruction and chaos to follow might have been avoided. And troublingly, he seems to learn absolutely nothing from this. He resolves the conflict with the exact same technique that he used to start it — namely, putting Gem Shards into articles of clothing. 
Conclusion
This lack of growth from Steven is the main reason why I label this episode as skippable; it presents no forward movement in his character and thus feels quite static. 
There are some interesting revelations, and the show continues its masterful slow burn of information — this time, concerning the Gem Shards. What are these things? Given that they are called gem Shards, did they once used to be part of an actual 'gem'? Is that why they only have partial consciousness?
The introduction of the Fryman family conflict could also be considered important, but they remain minor characters throughout the series and are better utilized in later episodes. Frybo is fascinating for its horror elements, and it's charming in a bizarre kind of way — but if you're trying to get hooked on the series, I advise you to plow forward and come back later.
Outtakes:
Every person in the Fryman family has blonde hair that looks exactly like French fries. This imagery is very deliberate, and is important to the series' symbolism — let's put a pin in that.

Is there a Mrs. Fryman? I don't believe we ever see or hear about her.

Favorite line: "THAT'S UNUSUAAAAAAAL!"

The cartoon birds on Steven's rain boots look less like ducks, and more like doves. Is this meant to evoke Noah's Ark imagery? Or perhaps foreshadow Steven's peacekeeping role later in the series?

Here we have yet another monster that can not only occupy organic matter, but seemingly create more of it out of nothing. This is also the second time that Pearl is defeated by food.